We have been talking about some pretty
serious
global issues lately and I thought that I would write about supporting the local community and the artists that entertain us. I sometimes wander to Faneuil Hall during my lunch break and happen to catch various acts of street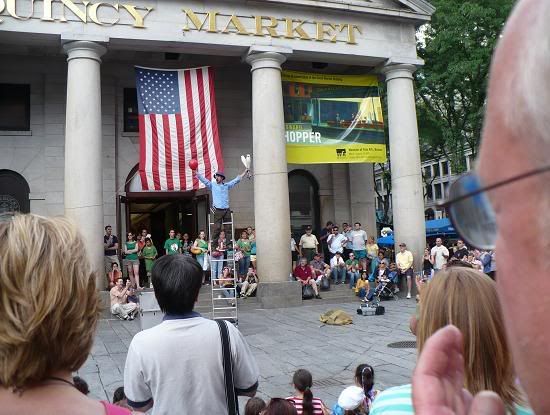 performances. I am in awe of the talent and showmanship of these performers and find them highly entertaining for my lunch break. It has become quite the tourist attraction, as I always see huge crowds around these street performers.
My personal favorite is the guy who juggles all sorts of interesting objects, including sticks with flames on them. Sometimes these stunts can be dangerous for the performer, such as juggling with flames, but I am glad they take the risk because it makes it more entertaining for me and the other members of the stunned audience.
If you haven't seen a street performer in Fanueil Hall yet, this weekend is your perfect chance! From 11:30- 3:00 pm this Saturday and Sunday a wide variety of acts will be performing in front of the infamous shops around Faneuil Hall. It's free but I would suggest to give a donation to these performers, especially if they make you
happy
. I promise it will be a wicked good time.
Don't forget to vote daily for the Volunteer Boston Blog as the "
Best Hobby Blog
"!