Well here is just about the craziest idea I offer to our readers. Are you willing to pay
more
for you energy bill if you know the energy you are receiving is
GREEN
and supports GREEN Energy?
NSTAR
is offering its customers a chance to
enroll
in renewable energy. Power will be generated from a wind farm located in at Maple Ridge Wind Farm in upstate New York, before traveling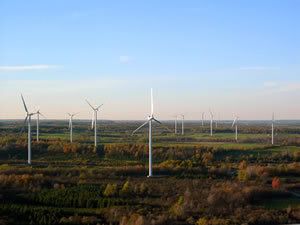 into the New England power grid.
Furthermore, once the Kibby Wind Power Project, currently under development in Maine, is finished, more renewable energy will be available to NSTAR customers.
The unfortunate part is that this renewable energy is going to cost you more money (estimated at a few dollars) than your current energy bill.
According to NSTAR, by paying for green energy, it will support the development of new or ongoing development of renewable energy resources in the region. This of course has the added benefit of helping us get off our
obsession with gas and oil
and reduce greenhouse gas emissions.
It may not be the easiest option for you to spend even more money on energy bills, but it will be worth it, trust me! I plan on enrolling once I move into my new place in August, so stay tuned and I will tell you how much more it's going to be!
Related Posts:
A Creeping Problem
Springtime, Gasoline, and a Solution
Maple Ridge Wind Farm Photo Courtesy of:
www.citizenscampaign.org